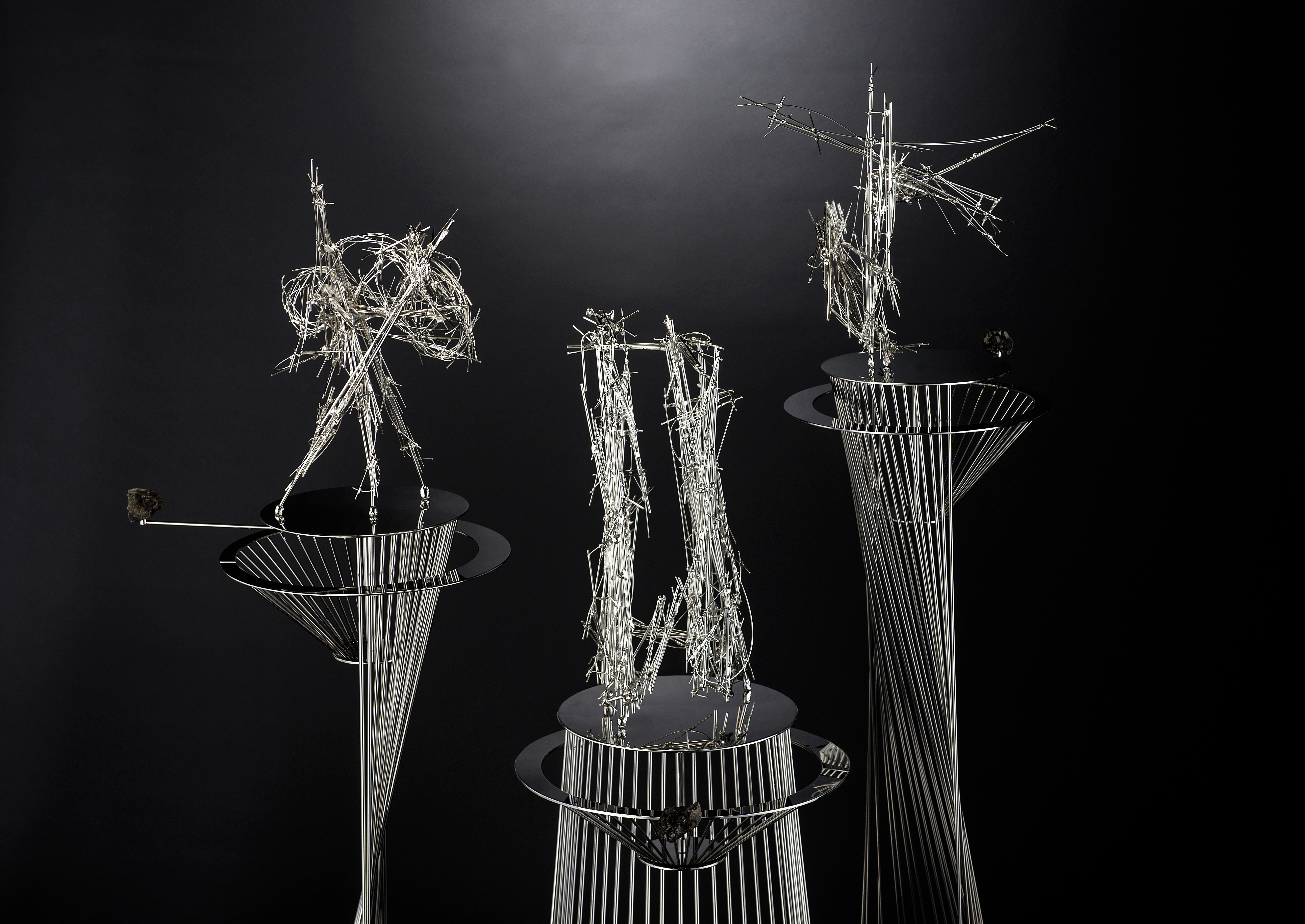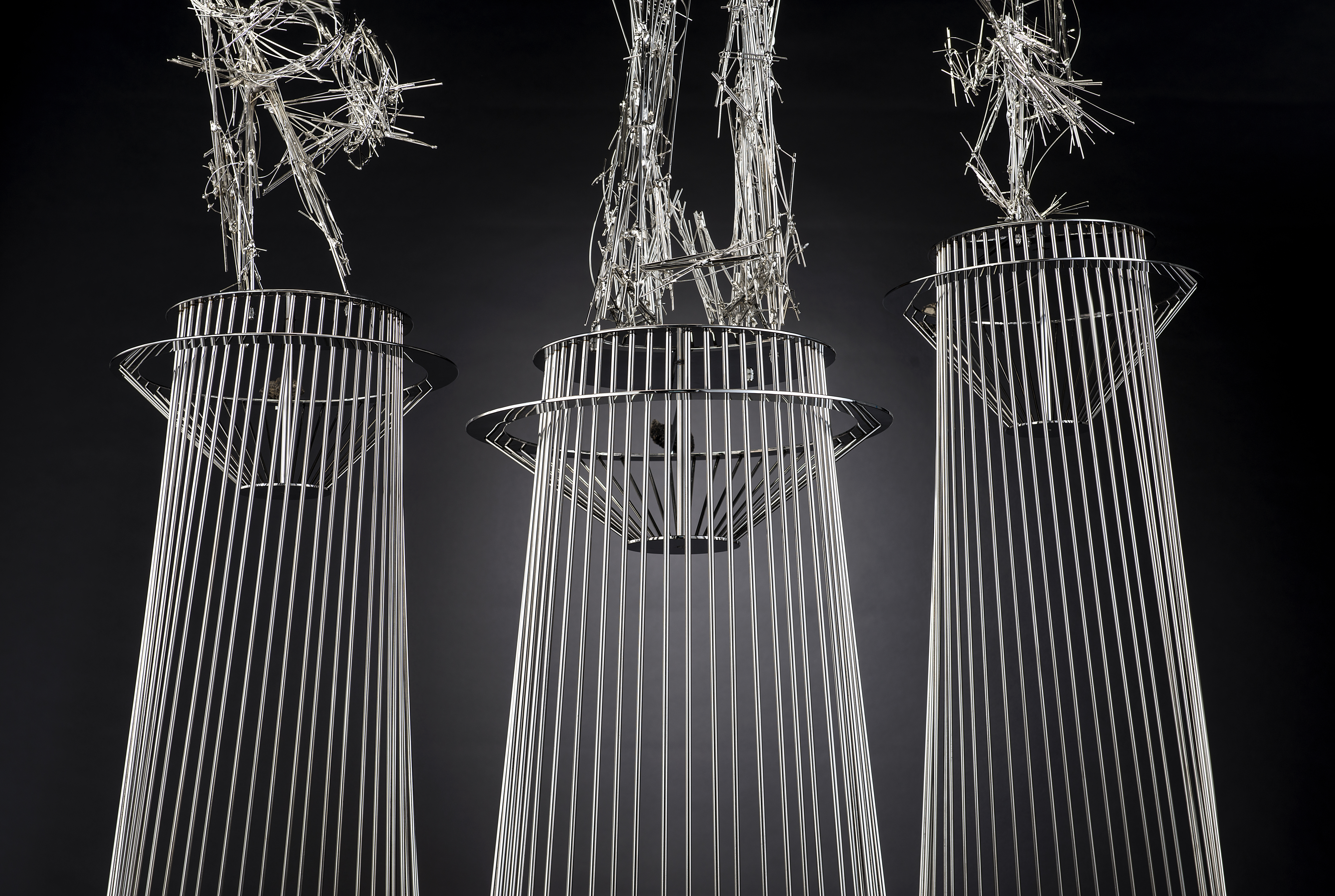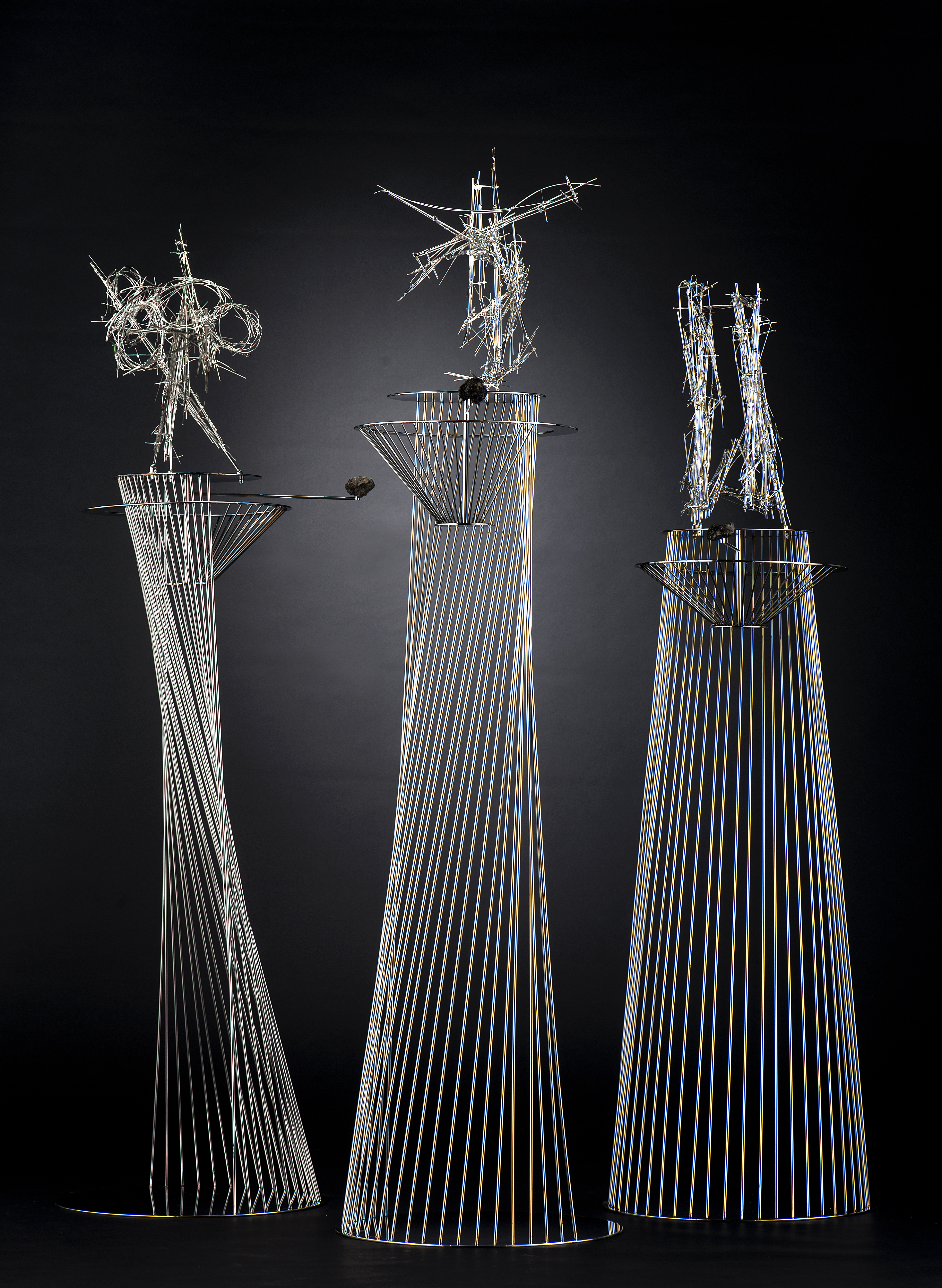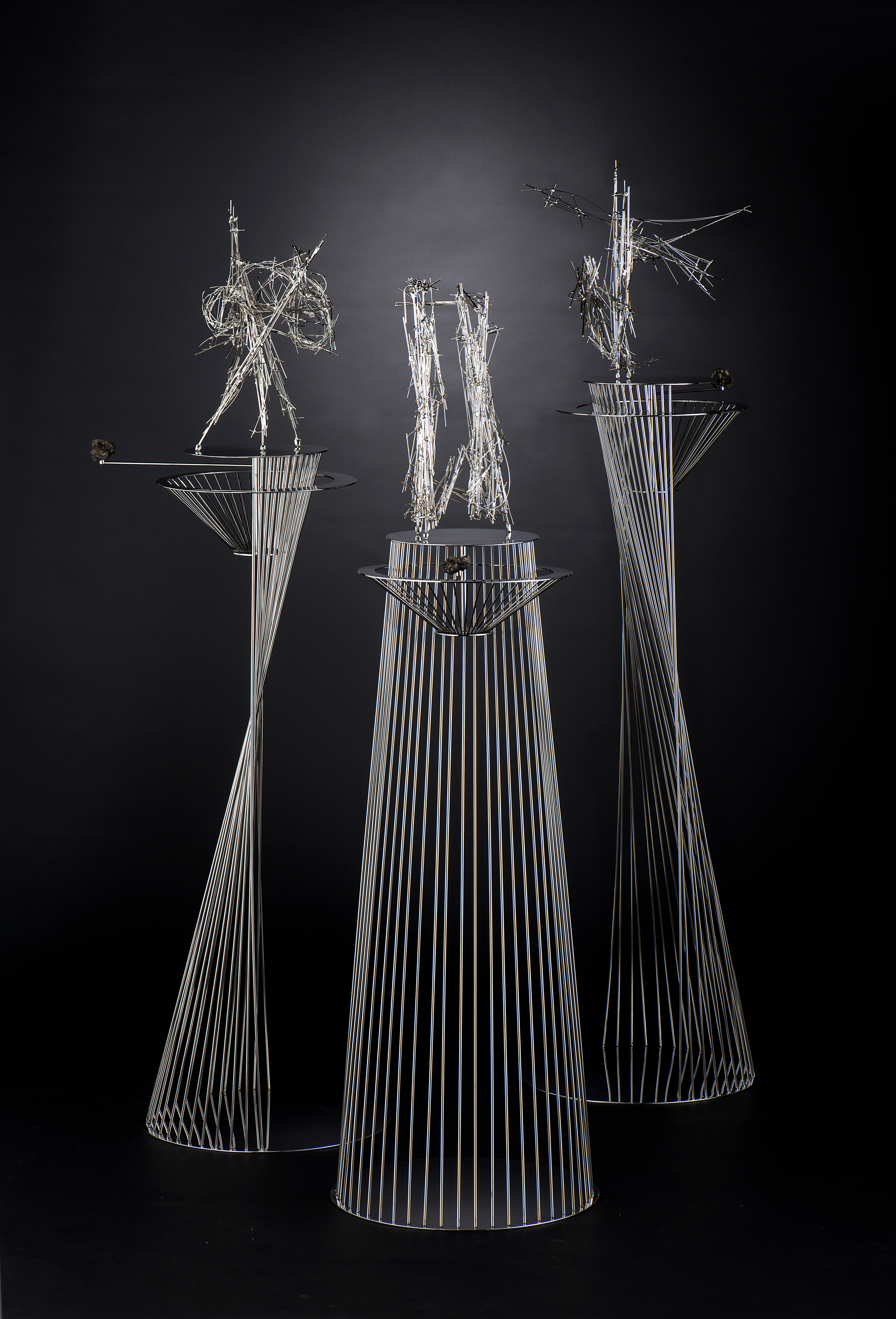 聽聲音的人0.04km,6hr 47min 12s / Listening to his sounds, 0.04km, 6hr 47min 12s
---
創作理念
一、聲音來源-C1-2
這個月第6條重鋪的柏油路,在鑽鑿刨除舊有鋪面後,大大小小的碎石塊與扭曲糾結的鋼筋殘支被無序的堆砌在一旁,共17組,向上層疊,好像隨時都可能倒塌,文明的象徵在這裡已然失落,只剩下人類對於城市極盡扁平的想像與膚淺的政治性展示。
二、聲音來源-H4-3
每天喚醒從未關機的電腦螢幕,顯現3個網路瀏覽器視窗且各自都有不少於12個標籤頁,因為害怕錯過什麼最新資訊而頑固的不敢輕易關掉任一網頁,只是長久下來,似乎也沒真正瞭解到什麼,反而只有標籤頁的累積是確定的。每當看完一則網頁文章便立刻補上新的,並在筆記本上記下一些感想,卻在以手握筆的書寫過程中,發現一筆一劃產生疏離、陌生的感覺,仿佛每個字都不再熟悉,只剩下筆劃本身。
城市文明的失落與書寫筆劃時產生的困頓,兩種存在於真實與虛擬空間場景中無法逃離的無力感,藉著把其中破碎、複雜的線性符號抽取而出,並將它們揉雜成一團,塑造成反映自我生活的聖像,供奉於高台上,每日聽祂的聲音。
Statement of Creative Concept
(I)Sound Source-C1-2
This is the sixth re-laying asphalt road in this month. After drilling and digging the previous surface, 17 groups of numerous stones and twisted steel bars are messily stacked up aside and constituted. They seem to collapse anytime, and the symbol of the civilization has been lost. There only remain the super-flat imaginations of people about this city and the superficially political display.
(II)Sound Source-H4-3
Every day when I open my MacBook Pro that never shutdown, the screen always shows 3 different web browsers and each of them has 12 tab pages at least. I'm afraid of missing new information, so I never close any pages. But it seems that I never learn anything new from them, only the accumulation of the tab pages is sure. I will add another new page after reading one and recording some ideas in my notebook. In the process of writing, I find that writing itself becomes strange to me. As if every word is no longer familiar, only the lines of those words are left over.
I take the broken complicated symbols of line from two powerless feelings: the loss of urban civilization and the exhaustion in writing which exist in the scenes of fiction and reality. Then I mix them for sculpting the icon that reflecting my daily life, putting him on the pedestal and worshipping him. Every day I listen to his sounds.