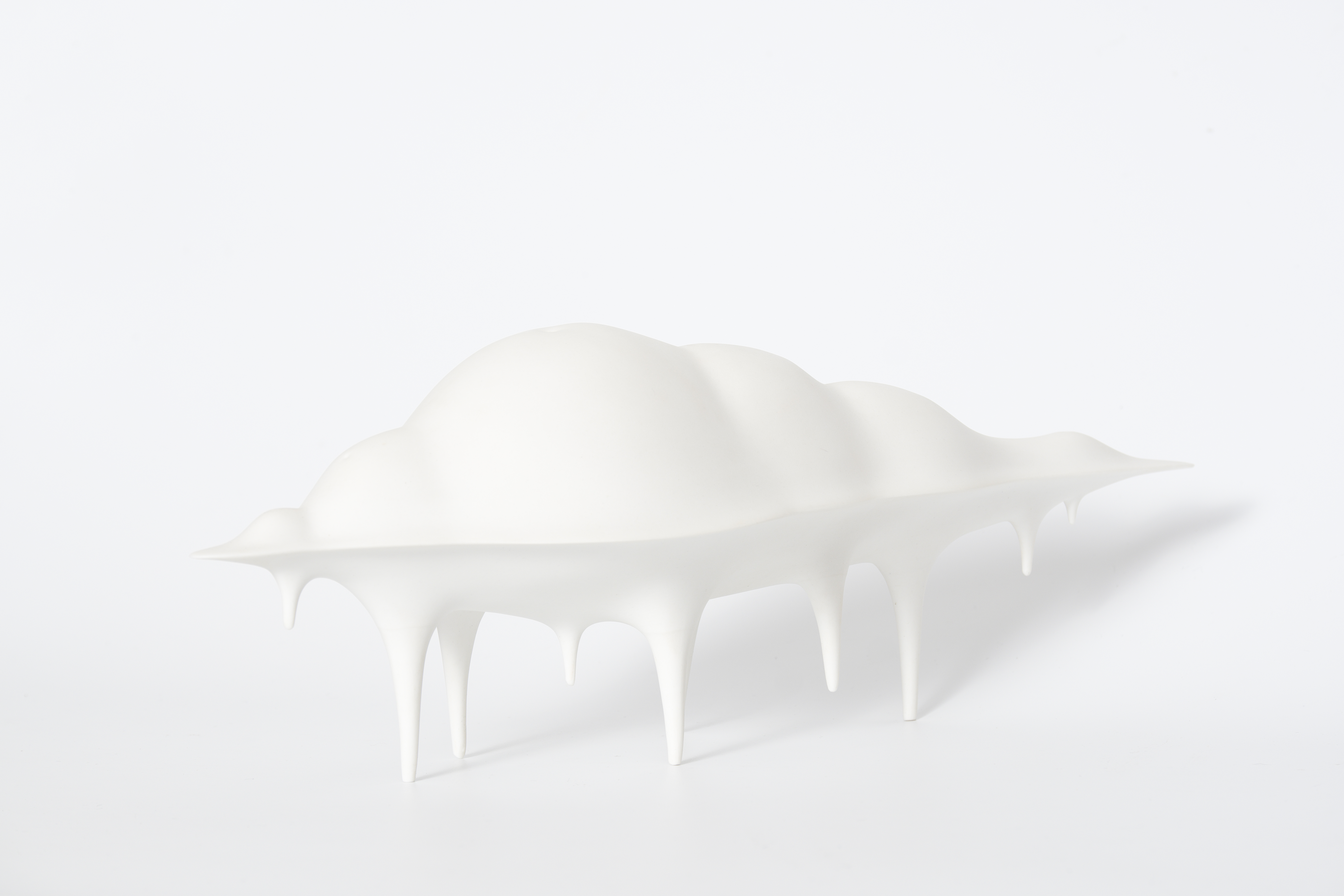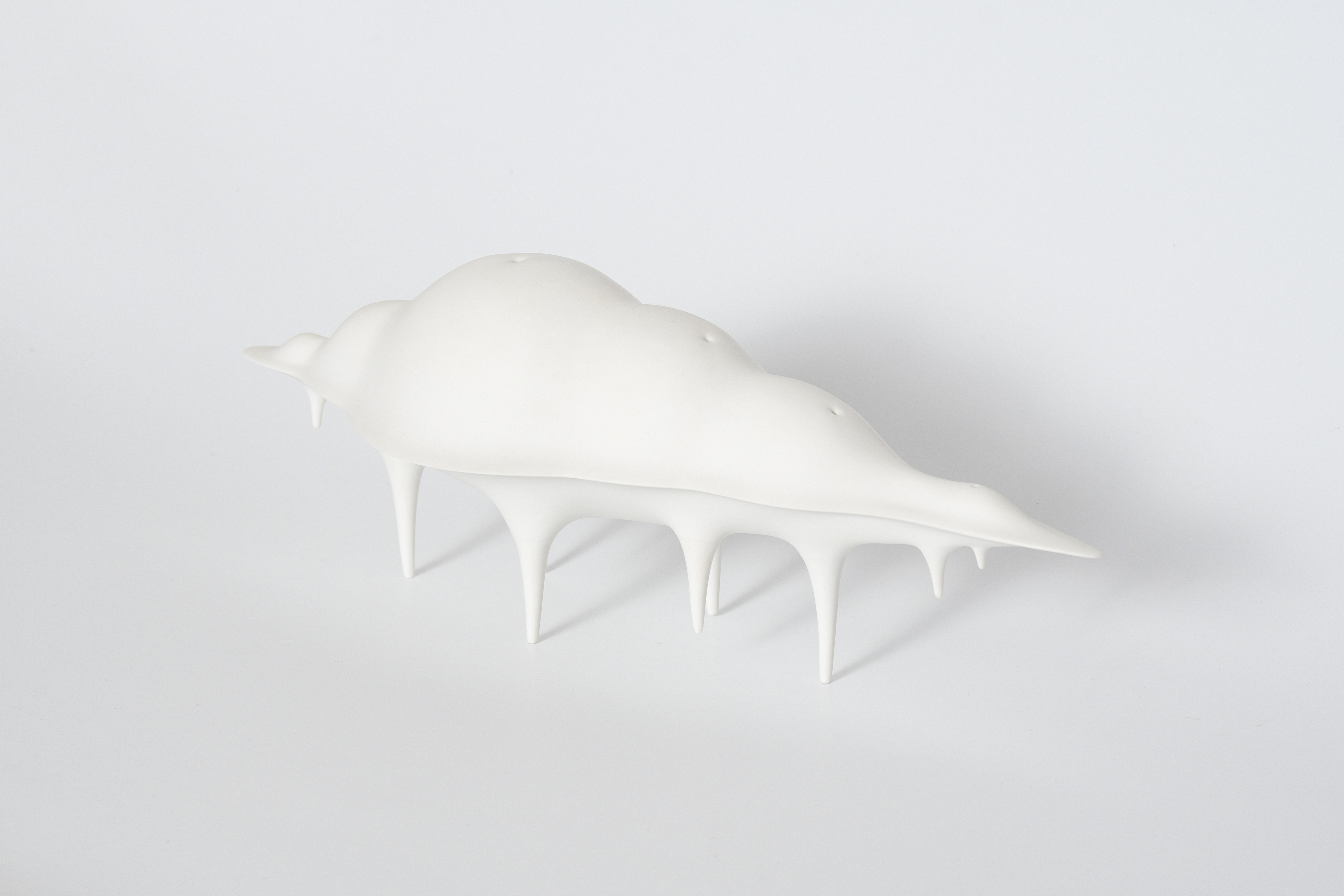 雲嶼/Cloud Island
---
創作理念
自進修階段以來,我開始去思索陶瓷的特殊性。簡單來說,與先前不同的是我開始對於陶瓷媒材的本質進行摸索以及探討,對我來說陶瓷是一種與自身對話所產生的純粹。
長久時間以來不斷地思考物慾以及自我生活之間的關連性,在這樣不斷自我內化的過程中,我發現陶瓷本身的核心價值其實就是生活化也就是質感純粹,而形式語言對陶瓷來說並非最主要的,但相反的卻是最基本的東西。重點還是在於本質,是一種最具直觀感受的傳達,也是最困難去達到的目標。
我所認為的陶瓷「物件(object)」所代表的就是貼近自我生活的空間事物。但透過自我內化的階段,以及緩慢的型塑過程中,我發現我得到很性感的產物─「質地生成」,進而去表達陶瓷與其他雕塑媒材不同的特質,並認知「脆弱性」及「距離感」這兩種元素運用在「自我生活化」裡所造成的衝擊,是一種簡單、純粹、曖昧且蘊含某種寄託性的精神力量所促成的獨特創造力。
「脆弱性」與「距離感」是相對的,裡頭呼應出來的是一種品味也是一種複雜的韻味,深化這樣的層次是我一直努力追求的部分。並藉由白土帶出內在的脆弱以及不知名性感的內在顯現。
我近乎盲目的對每一種白色事物感興趣,在我認為它是純境的且存在於原始物體之中,期待能發現完全不同的形象。
Statement of Creative Concept
I started to think about the specificity of ceramics, since the learning phase. In short, the difference from before is I start to explore and investigate the essence of ceramic. For me, ceramics is a kind of purity which comes from personal dialogue.
I have been constantly thinking about the relation between "materialism" and "self-life" for a long time. By this constantly self-internalize process, I found out the main issue of ceramics itself is actually life, which is the purity of texture. However the language of form is very important to ceramics, on the contrary it is the most basic thing. The main issue is still about essence, it has the most intuitive feeling to express, and also the most difficult goal to achieve.
I consider the "ceramics object" as the representation of close to self-life space. However, by the stage of self-internalization and a slow shaping process, I found out a very sexy product: "texture generate". I express the characteristics difference between ceramics and other sculpture media, and cognitive the impact of "fragility" and "a sense of distance" these two elements used in "self-life", is a simple, pure and contains some kind of commitment spirit power to bring about the unique creativity. "Fragility" and "a sense of distance" are relative; inside it echoes out a kind of taste and also a complicated flavor, the deepen kind of level is what I am trying hard to pursue. By using white clay, it could bring out the inner delicacy and the unknown intrinsic appearance.
I hold an almost blind fascination for everything white. I look forward to finding a completely different image in what I believe to be a pure and original realm.